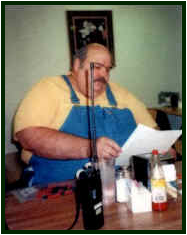 Mike Lamb, NC4ML, of Seagrove, NC, passed away on May 26, 2002 after having undergone surgery. Mike was 48 years old. He was a missionary evangelist and was involved with ministering to inmates at two county jails and at nursing homes to the elderly and shut ins. He was attending Faith Temple Baptist College and was to receive his Bible diploma on June 8, 2002.
Mike was Vice President with Moore-Montgomery County Amateur Radio Club. He was a Fourth Region Net Manager with the National Traffic System and Assistant Emergency Cooerdinator with ARES in Montgomery County. Mike was also a Session Manager for W4VEC for quite some time. He was one of the hardest working VE's that W4VEC has ever had. Mike was the Session Manager of the exam sessions in Biscoe, Carthage and Asheboro, NC. He was always available to help at any other session location when he was asked.
Mike was a caring Christian person who took pleasure in helping others in any way he could.
Mike Lamb, NC4ML – SK
1954 – 2002