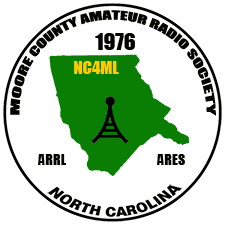 The Moore County Amateur Radio Society (MOCARS) is an ARRL affiliated club of dedicated, active ham radio operators involved in a wide spectrum of amateur radio activities. Interests include:
communications with other hams worldwide,
designing, building, and testing ham radio equipment,
and many other radio related activities.
MOCARS is an active part of our community providing services and educational activities. Some of our activities include:
Communications support in times of emergency and/or disaster for the County Emergency Operations Services, the Moore County Health Department, and the American Red Cross through our Amateur Radio Emergency Services (ARES) organization,
Communications support for local events,
SkyWarn, volunteers who provide severe weather reports to the National Weather Service,
Boy and Girl Scout education through general presentations and mentoring Scouts working on radio related projects
If you would like to find out more about Amateur Radio, this is a good place to start. Contact us, or join us at one of our monthly meetings. Although MOCARS activities focus on Moore County, membership is not limited to Moore County residents. Everyone is welcome.
---